Conventional hair removal, shaving, waxing and depilatories, are time-consuming and provide for temporary solutions. Early laser technology for hair removal was expensive and painful but provided permanent results. Now, with newer technology, affordable, comfortable and permanent hair removal is possible. Treatment is safe, simple and quick, with virtually no side effects or minimal discomfort.
Although laser hair removal has been used for nearly a decade, within the last couple of years the technology has improved dramatically. Laser Hair Removal can now be done quickly, safely, effectively and comfortably. You may see significant hair reduction of up to 85% to 90% after four treatments.
The long-pulse alexandrite laser has the ability of deep penetration into the dermis. The resultant heat build-up in the hair shafts disables the hair follicles in the active growth phase which enables it to achieve effective laser hair removal.
Specifications
Wavelength: 755
Pulse width: 2-20
Fluence: 10-40
Spot size: 5-10
Repetition rate: 1-5
Three different alexandrite lasers are available. These include:
Apogee-40 (Cynosure; Chelmsford, Mass),
EpiTouch Alex (formerly ESC Sharplan, now Lumenis; Santa Clara, Calif)
GentleLASE (Candela; Wayland, Mass)
Disadvantages: Hair removal is short term. Occurrence of side effects in 2% of dark colored patients treated with Alexandrite lasers.
The GentleLASE® and GentleYAG® Systems by Candela are considered the Gold Standard in laser hair removal. The GentleLASE® is a revolutionary long-pulse high energy alexandrite laser that emits a gentle beam of light that passes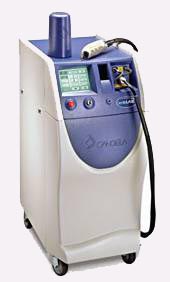 through the skin to the hair follicle where it is absorbed.
The laser energy is transformed into heat which destroys the hair follicle leaving the surrounding skin unaffected. The GentleYAG® is the fastest and most powerful ND:YAG Laser on the market today. The GentleYAG® effectively treats all skin types, including TANNED SKIN and DARK or AFRICAN AMERICAN skin types, offering unmatched treatment capabilities in PERMANENT HAIR REMOVAL, LEG VEINS, WRINKLES and SKIN TIGHTENING.
The GentleLASE® and GentleYAG® feature the patented Dynamic Cooling Device (DCDT) that sprays a fine mist of cryogen prior to each laser pulse. This device minimizes pain, protects the skin, and enables the laser energy to gently
reach and treat hair follicles. Unwanted body hair is safely removed without damaging the delicate pores and structures of the skin. Facial and bikini areas are usually completed in less than ten minutes; legs, backs and larger areas can take longer. The root of the hair is targeted so specifically that it not only eliminates very dark and coarse hair, but it is the most effective technology for the removal of fine hair and even hair with a light brown root. The GentleLASE® and GentleYAG® are significantly faster than older laser hair removal technology. These lasers use an 18mm spot size (about the size of a quarter), while older laser technology uses a much smaller spot size. The larger spot size, coupled with more hertz, means that large areas can be treated much quicker.
Risks are minimal. There is no recovery or down time. Patients can return to their normal activities immediately. After the treatment you may experience a slight reddening of the skin similar to a sunburn that will resolve within a few hours to days. In certain instances (especially in patients with darker complexions) temporary pigment changes may occur, but will disappear within a month. The diode laser is a very effective device. Laser production is triggered by small diodes or semiconductors that are arranged together to produce light. The diode laser has a longer wavelength than other lasers used which may improve treatment results on darker skin types.

Specifications
Wavelength: 800-810
Pulse width: 5-30
Fluence: 10-40
Spot size: 9
Repetition rate: 1

Several 800-nm diode lasers have been granted FDA approval. These include:
Apex-800 Iriderm (IRIDEX, Mountain View, Calif)
LaserLite (Diomed; Andover, Mass)
SLP100 (Palomar Medical, Burlington, Mass)
EpiStar (Nidek, Fremont, Calif)
MeDioStar diode laser (Aesculap-Meditec; Jena, Germany) (waiting forFDA approval)

Advantages:
Longer wavelength safeguards achievement of good results for darker skin types. Deep penetration and targeting of deep hair follicles.

Disadvantages:
In some cases after treatment with Diode lasers certain patients developed urticaria. It is a severe allergic skin reaction similar tohives and can be managed by anti allergic drug therapy.
This laser has the ability to deliver two different wave lengths oflight. One is an invisible infrared light used for deeper penetration. This wavelength is used to get to deeper hair follicles. The other wavelength, a green light, is employed for treating hair follicles closer to the surface. In both cases, the Q-switching device emits rapid bursts of laser light to the treatment area.
Specifications
Wavelength: 1064
Pulse width: 10-50
Fluence: 20-100
Spot size: 3-5
Repetition rate: Up to 10 Hz

Advantages:
Availability of surface cooling and epidermal protection due tosurface cooling and longer pulse duration of these lasers. Long-term studies show that these laser systems can achieve asignificant delay in hair regrowth. Nd: YAG 1064 nm system may be best for darkly pigmented patients

Disadvantages:
The waxing and carbon lotion application is cumbersome. No clinical data to support that added benefits are achieved when pretreatment waxing or carbon suspension is used. Not proven effective for long-term results.

Devices available:
Carbon suspension Q-switched lasers SoftLight (ThermoLase; London, England)
Q-switched Nd: YAG laser MedLite IV ;( Hoya ConBio, Fremont, Calif)
Long-pulsed Nd: YAG lasers e.g., LaserScope (Depilase; Phoenix, Ariz)
This laser emits red-colored beam which seeks out the target melanin inside the hair shafts and adjoining hair follicles. Due to their specific melanin targeting these are best suited for individuals having light skin and dark hairs.

Specifications
Wavelength: 694
Pulse width: 0.85-3
Fluence: 5-40
Spot size: 3-10
Repetition rate: 0.5-1.2

Devices Available:
Three normal-modes, 694-nm ruby lasers are commercially available forlaser hair removal .These include the E2000 (Palomar Medical;Burlington, Mass) (cleared from FDA), EpiPulse Ruby (formerly ESCSharplan, now Light Sheer from Lumenis; Santa Clara, Calif), RubyStar(Aesculap-Meditec; Jena, Germany)

Advantages:
Long term hair removal is achieved. The E2000 series is equipped with sapphire cooled hand piece, Epiwand, which serves as epidermal coolant. Other devices are also equipped with in-built cooling devices which minimize the chances of burns and other laser hair removal side effects.